The Northside Association for Community Development in Kalamazoo focuses on home ownership and job training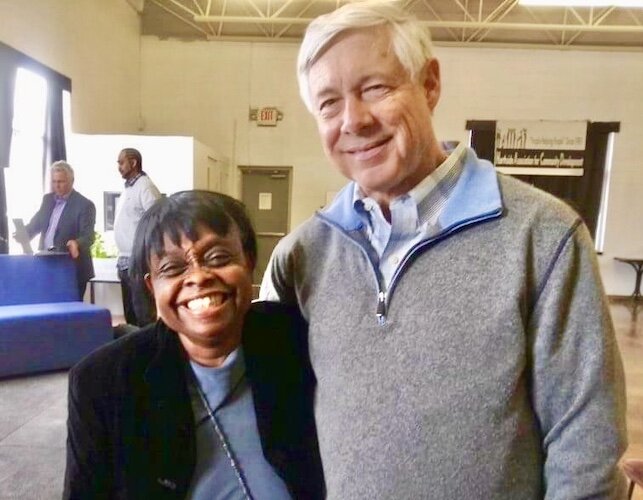 The advocacy organization for the Northside neighborhood of Kalamazoo considers home ownership and high-quality job training to be essential for area residents to build and maintain wealth.
So this is the first phase of a two-part project to make those things happen.
"The first phase of this project," says Mattie Jordan-Woods, executive director of the Northside Association for Community Development, "is to complete four owner-occupied single-family homes and continue to develop neighborhood-based technology and technology. qualified. Trades Center, which will provide trades training with credentials and access to employers who are ready to hire.
NACD plans to begin construction this year on four single-family homes on what are now vacant lots in the 400 block of West Ransom Street.
As part of a deal to reallocate vacant or marginal property to affordable housing and commercial space, the City of Kalamazoo gave NACD $350,000 in 2019 to purchase the property. The association used the money, which was provided as an Aspirational Project Grant from the Kalamazoo Foundation for Excellence, to acquire seven properties between North Street and Ransom Street, just east of Westnedge Avenue .
The Stryker Johnston Foundation later provided $1 million to be used for environmental assessments, demolition of existing structures, and construction of single-family housing. And in March, the association was officially notified that it would also receive $2 million in federal funding to help with its efforts. U.S. Representative Fred Upton (R-St. Joseph) applied for the grant and announced the award March 25.
The funding is intended to support the development of affordable single-family housing as well as the Technology and Skilled Trades Center proposed by NACD.
The Skilled Trades Center, which will expand the association's headquarters facility at 612 N. Park St., aims to provide neighborhood residents with easy access to skills training programs that lead to well-paying jobs. And it will provide a permanent home for the programs NACD began offering in 2019.
It was then that the association started its Neighborhood Workforce Career Development Program, intended to train residents of the North Side, East Side, and Edison neighborhoods of Kalamazoo for high-paying jobs without having to travel long distances to obtain this training. For those struggling financially and without reliable transportation, travel to and from quality job training programs has been a barrier, Jordan-Woods said. It has also been a challenge for those already working in jobs that limit their travel time.
In collaboration with Shared Prosperity Kalamazoo, LISC, The Kalamazoo Promise, Youth Opportunities Unlimited, Bronson Healthcare Group, Stryker Corp. and others, NACD's program began with a certified nursing assistant course and expanded to include training in health care, construction trades, and manufacturing. .
The new Skilled Trades Center will require the addition of approximately 3,800 square feet to the 9,600 square feet of space available to NACD in its Urban Garden Building, just north of its existing offices. Jordan-Woods says the center is intended to be a place for people of all ages to learn and explore technology. It will include a computer lab but will expand to provide training in areas such as graphic design and printing.
The four new homes planned for Ransom Street are in line with RIP-C, the Northside neighborhood plan to build a total of 21 new homes over five years, repurposing what are now vacant properties. In addition to the Ransom houses, 14 residences are to be built on North Church Street and three on West Frank Street.
RIP-C stands for Residents Implementing Our Plan – Collaborative. The "collaboration" will integrate skilled trades training and workforce development. "And that's collaborating with different organizations," says Jordan-Woods.
The homes NACD intends to build "will be single-family, owner-occupied homes that will have significant subsidies so that people who traditionally couldn't own, can become owners," Jordan-Woods said. .
"We're trying to rebuild our community to restore the homes that were here," says Jordan-Woods.
When drafting the RIP-C plan, residents said they wanted to see an increase in affordable housing in the neighborhood, as well as an increase in home ownership and business ownership, she says.
Dozens of older homes in the Northside neighborhood have been seized over the years, including many on North Church Street. Many have been demolished. Jordan-Woods' efforts include "restoring the beauty of Church Street by turning the houses over to families who want to live there."

The skills center will put them within walking distance of the skills training they need, she says. The association's agreements with home building professionals will include the provision of experience in the skilled trades. Contractors will be required to somehow involve residents of the Edison, Eastside and Northside neighborhoods in the construction of the planned homes, Jordan-Woods said.
NACD is also working to redevelop a vacant former nightclub building in the 400 block of North Street into a space with six small housing units. Five of these rental units will be used to house people at risk of homelessness, such as young people who have left the foster care system. They can also provide space for students heading into skilled trades or young adults ready to take advantage of The Kalamazoo Promise free college scholarship program. The sixth will house a site manager.
She says the total cost of her nonprofit's efforts has been a moving target because construction costs have risen sharply over the past two years and because she has yet to receive all of her funding. He will therefore continue to ask for help with the construction costs.
Speaking of the homes planned for Ransom Street, Jordan-Woods says, "When we started, these homes were supposed to be $225,000 (each). But with the pandemic, all the flooding, not being able to get supplies, and you name it, those homes cost up to $350,000.

She is happy with the idea of ​​reallocating unused assets.
The planned developments, she says, "will also provide a safe place for people to improve their quality of life. And it's going to provide free accredited training that will enable people to be able to get well-paying jobs.