ENID, Oklahoma— A food pantry that helps feed thousands of families across the state officially opened a brick-and-mortar location Friday morning.
Dozens of people attended the groundbreaking ceremony for the Tyson Foods Community Food Pantry, a program that was established through a partnership between Tyson and RSVP of Enid and North Central Oklahoma in April 2020 .
Christy Baker, executive director of RSVP, said seeing the pantry program come to fruition was a "dream come true".
"It was just an idea that Tyson had…and there was a lot of planning and rerouting – a lot of time spent together, but it's been worth it and 100% on (the CPP) and our partner agencies ", said Baker. "It's here, and it's amazing."
The CPP, the first project of its kind in Enid, started when a Tyson company employee devised a plan to help donate food by establishing touchpoints, like RSVP, in local communities and by installing freezers, if necessary, for the contact points to be distributed to more agencies in the region.
Two years ago, Tyson teamed up with RSVP and local volunteers to distribute 40,000 pounds of protein to area agencies as part of a $13 million commitment by the food company to help to feed those in need during the COVID-19 pandemic.
After the initial distribution, agencies traveled to Tyson's facility on East Pine to pick up donated protein once a month, and since then Tyson has donated approximately 180,000 pounds.
Today, CPP has 83 partner agencies, including food banks, churches, homeless shelters and senior centers, in 15 counties across Oklahoma – from Guymon to Kaw City and from Alva to Oklahoma City – and has helped feed over 25,000 families.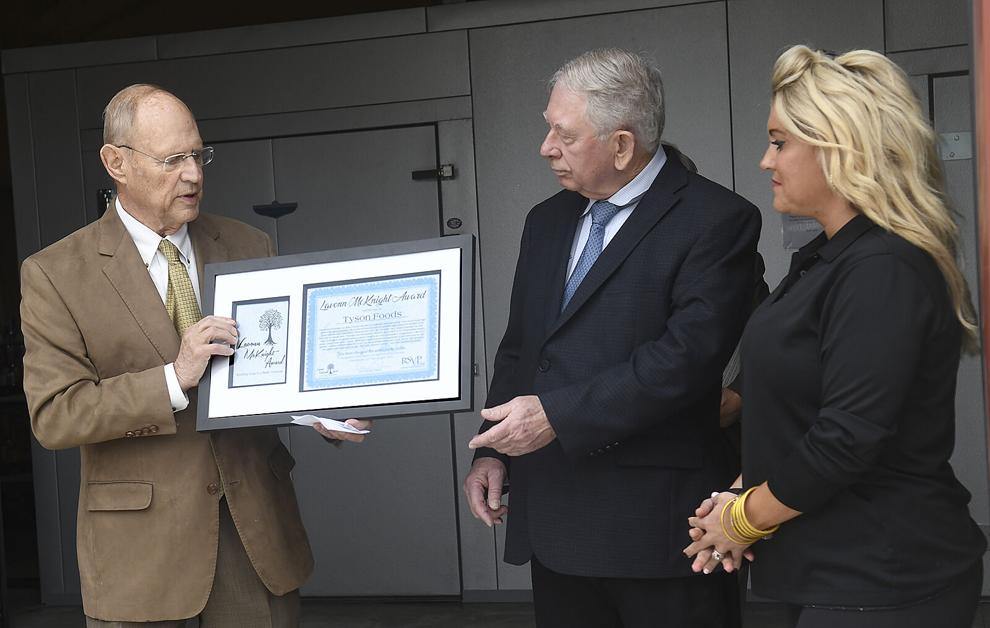 Phillip Kennedy, who is a chaplain at Tyson, said the company is excited about the RPC.
"I know it's a lot of work to put something like this together, and it takes a lot of time when you're working with people remotely," Kennedy said, "but it came together, and we're just thrilled to have the opportunity to do so.
Kennedy and Baker met with city officials about RPC, and the result of that meeting was the metal building outside the RSVP Senior Center, 202 W. Walnut. Later, Baker applied for a Tyson grant to install the refrigerator and freezer inside the building.
Tyson will still donate food to the CPP once a month, but if agencies are not available to pick up food that day, they can come in between 9 a.m. and 10 a.m. and 1 p.m. and 2 p.m. on Monday and on Wednesdays and by appointment only on Fridays to collect what is needed.
In addition to Tyson products, shelf stable items such as preserves and pasta are available inside the CPP.
The partnership between RSVP and Tyson, Baker said, has helped many families during COVID-19, and now RPC can continue to help fight hunger in Oklahoma communities.
"We just want to make sure — through Tyson products — that no matter who's hungry, they're fed," Baker said. "We are able to…not just serve a meal, but keep going (the RPC) so they have something to rely on."
Anyone wishing to donate stable, frozen foods to the CPP can do so by bringing them to the Senior Center from 10 a.m. to 1 p.m. Monday and Thursday, Baker said.
Agencies such as non-profits, civic organizations, churches and child care centers – "anyone in need of food" – can email [email protected] to be put on a list to receive monthly product emails from Tyson.