Rockdale Coalition awards 2022 Community Service Scholarships and dedicates mural – On Common Ground News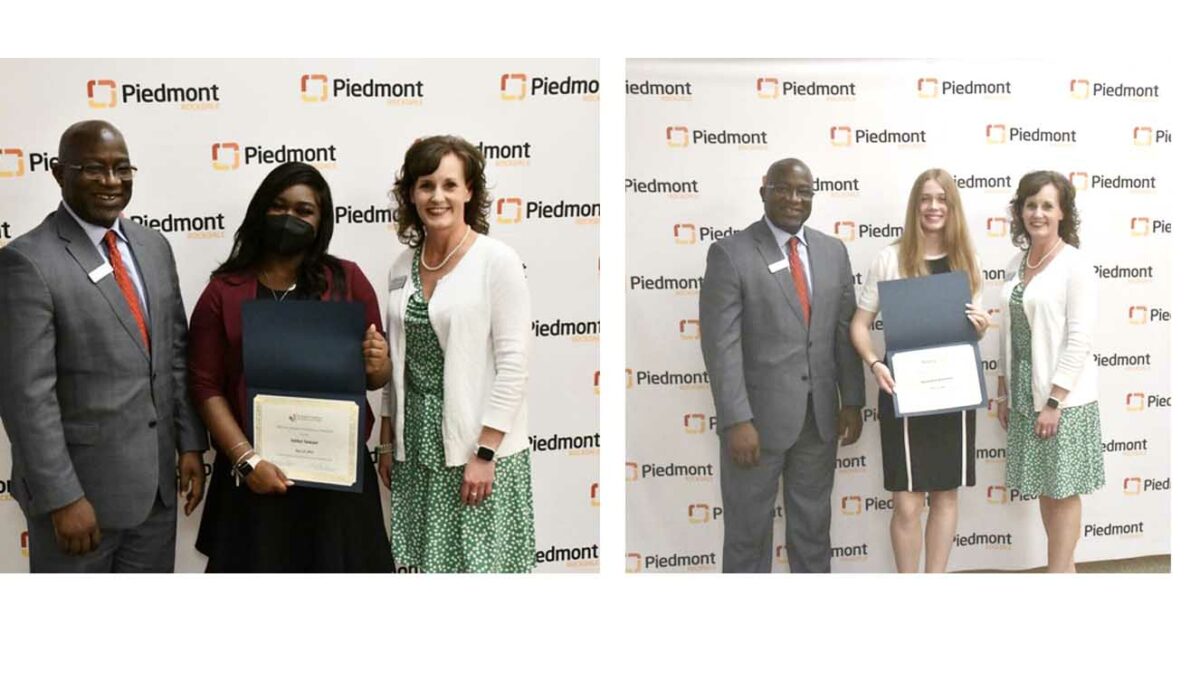 ROCKDALE COUNTY, GA – Two outstanding students invested in community service from Rockdale County have been named finalists for the 2022 John K. Morgan Scholarship from the Rockdale Coalition for Children and Families. Of the two finalists, Jaidyn Sawyer, a senior at the Rockdale Magnet School for Science and Technology, was named the 2022 John K. Morgan Fellowship recipient.
This is the 12th year the Rockdale Coalition has offered the $4,000 scholarship to a student who has demonstrated outstanding community service in Rockdale County and plans to maintain that level of commitment while pursuing post-secondary education. . The scholarship is named after John K. Morgan, former president and CEO of Acuity Brands Lighting and community advocate.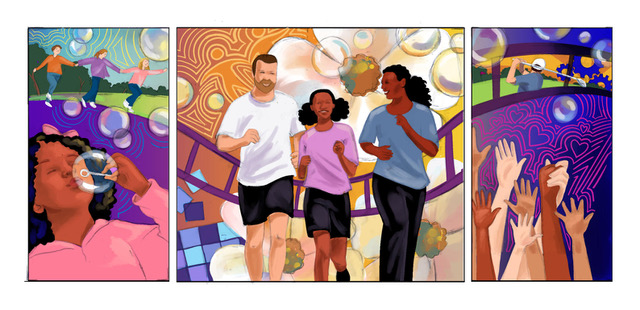 A Life Well Lived – Wall design by The Sketching Pad.
Since the inception of the John K. Morgan Scholarship, nearly $80,000 has been awarded to deserving students in Conyers and Rockdale County. The 2022 John K. Morgan Fellowship finalists are Alexandria Brumlow (Heritage High School) and Jaidyn Sawyer (Rockdale Magnet School for Science and Technology).
"In light of the events of the past two years, we were delighted and encouraged to see that our candidates still found a way to serve our community in a variety of ways, perhaps when it was most needed," said Director of the Rockdale Coalition for Children and Families Michael Hutcheson. "The talent and commitment these students have shown throughout their careers in giving so much of their time and gifts to help others in need is to be commended and celebrated."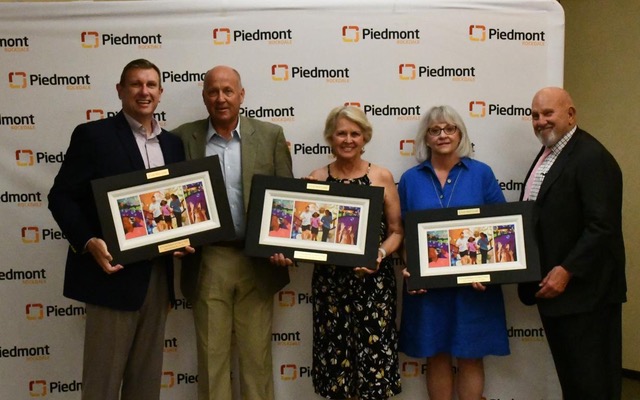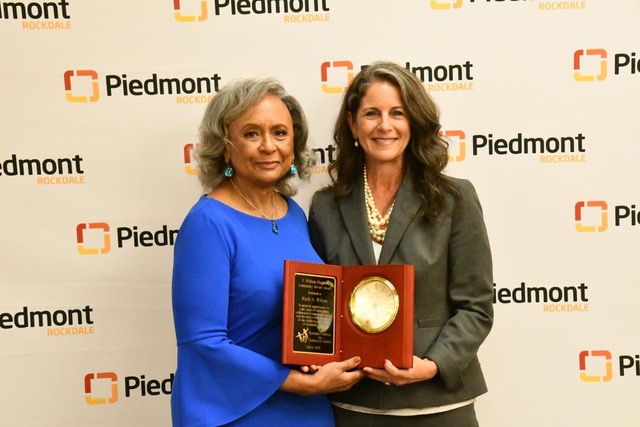 Pictured LR are Cooper Jones, David and Penny Jones, and Sandy Jones Blessing and Brian Blessing.
Pictured, far right, are Ruth Wilson (blue suit) and Superior Court Justice Rockdale Coalition Board Member Nancy Bills.
Highlights of community service demonstrated by both finalists include:
Alexandria Brumlow considers her volunteer work with Keep Conyers Rockdale Beautiful, Community Church of Praise and CJ Hicks Elementary School to be her most meaningful areas of service.
Jaidyn Sawyer cites her volunteerism through the National Coalition of Black Women, Big Miller Grove Missionary Baptist Church, and Keeping Families Together, Inc., as motivation for community service.
In addition to the John K. Morgan Scholarship of $4,000, a Rotary Club Community Service Scholarship of $1,000 was awarded to Alexandria Brumlow by Rotary Club of Conyers President Moses Kabia.
As the Rockdale Coalition has not hosted in-person award receptions for the past two years due to COVID-19, the organization has publicly recognized its recipient of the William F. Hughey Community Service Award 2020, Ruth A. Wilson, former Rockdale County Clerk of the Superior and State Courts, and her 2021 Hughey Award recipient in memoriam, to the family of former Rockdale Coalition Chairman Allan E. Jones at the May 19 Scholarship and Awards Recognition Reception held at Piedmont Rockdale Hospital. The F. William Hughey Community Service Award is presented annually to recognize an individual who has demonstrated outstanding and collaborative community service in the Rockdale community.

A mural titled "A Life Well Lived" was also dedicated in memory of Allan Jones. The mural was designed and painted by Jennifer Baker of The Sketching Pad and features the themes of healthy living, family and community in the courtyard outside Building B in Piedmont Rockdale. Funding for the mural was provided by the Hospital Authority of Rockdale County and the Rockdale Coalition for Children and Families.

"The mural is not only a vibrant addition to the Piedmont Rockdale campus, but to our community. We are grateful to Piedmont Rockdale CEO Blake Watts and Piedmont for offering the location of this mural in memory of a true community servant, Allan Jones," said Hutcheson.

Photos at top LR: Jaidyn Sawyer, a senior at Rockdale Magnet School for Science and Technology, has been named the recipient of the 2022 John K. Morgan Fellowship of $4,000. Alexandria Brumlow, a senior at Heritage High School, received a $1,000 Rotary Club community service scholarship. President of the Rotary Club of Conyers Moses Kabia and Scholarship Committee Chair Jennifer Edwards awarded the prizes.


Post views:
636