PNP Apologizes, Says It 'Means No Evil' Against Community Food Pantry Organizers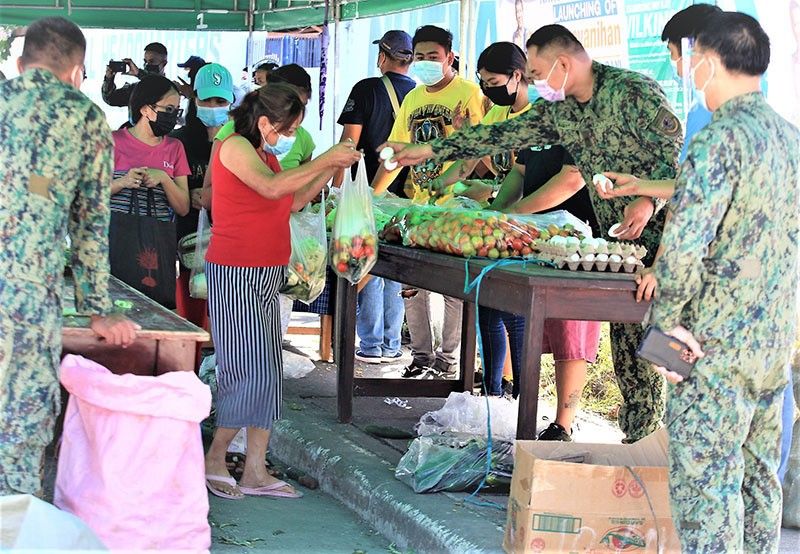 MANILA, Philippines – Despite apparent inaction so far in harassment cases, the Philippine National Police said on Thursday it was about harming organizers of the community pantry.
Community pantries have sprouted up across the country since last month, but have also reported cases of harassment and profiling by cops.
In a statement sent to reporters on Thursday, Police General Guillermo Eleazar, chief of the PNP, claimed that the organization had never officially sanctioned the harassment and profiling of community pantry organizers, cases of which have been reported. in all the countries.
"I have asked our police to help and protect community pantry organizers in their area of ​​responsibility and to ensure that sanitary protocols are followed," he said.
The police chief also revealed that the PNP's Directorate of Police Relations with Police has already developed guidelines for police personnel to engage with community pantry organizers, under which the presence police should only be to maintain peace and order and ensure strict compliance with minimum public health safety standards. .
"No bad intentions"
He underlined the apologies of the police sergeant. General Vincent Calanoga, head of the PNP's human rights affairs office, to community pantry organizers who felt threatened or intimidated by the actions of some police officers during Wednesday afternoon's hearing of the Human Rights Chamber Committee.
"This is proof that there are no bad intentions on the part of the PNP," Eleazar said, urging organizers of the community pantry who felt harassed, intimidated or threatened by police officers to carry immediately. complaint. "You can be sure that we will act immediately. "
The police chief made the same statement earlier, urging Ana Patricia Non, organizer of the Maginhawa pantry, to go to the police to pass on her complaints of death threats and red marking. These came after police went to the community pantry and asked her for personal information, including the status of her relationship.
"What about other harassed community pantries? We need to make sure that the culture of bullying is addressed. They can't just share red flag messages and then tell us to trust them, "she said at the time.
"It has been difficult talking to them over the past few days because their treatment has been difficult… they have not tried to form a relationship with my community pantry."
READ: With harassment of pantry organizers unresolved, PNP offers assistance to No amid threats
No excuses ?
Despite his alleged apologies on the one hand, the PNP leadership also dismissed the harassment allegations on the other.
"If the public interprets everything as harassment, then we will always lose," Eleazar said in part Filipino earlier in his first press briefing as the new PNP chief.
Although he apologized during Wednesday's hearing, the PNP-HRAO chief was also careful to voice his disagreement with the allegations.
"If we hurt someone, it's fair to apologize, but we don't think there has been any profiling. Interrogating our patrollers is part of their job so that they understand the situation in their area. locality. That is their mandate, "he added. Calanoga said Wednesday.
Calanoga added that the allegations of police profiling are already under investigation and are being addressed.
As it stands, a number of community pantries have already had to close their doors after encounters with cops asking for personal information.
A pantry organizer in Marikina was asked for contact details and home address. The police also asked him if he was a member of an organization and then offered to take him home.
Two organizers from a town in the Autonomous Region of Bangsamoro, Muslim Mindanao, were forced to fill out an internal memo given to them by local police.
Another pantry in Pandacan, Manila has chosen to close its doors for fear for the safety of its volunteers after cops asked them to fill out a technical sheet.
READ: A few days after the encounters with the police, fear remains for those accosted
Organizers call for responsibility, not "excuses"
In an online exchange with Philstar.com, a community pantry organizer who previously reported police harassment, called the reaction "disappointing", saying he "just doesn't buy it."
The organizer said earlier that he was approached by cops who obtained their contact details and home address.
"I will only believe that their intention is to help when they hold agents involved in profiling and harassment to account," he said in part in Filipino. "They can't solve this problem with an apology. Hold them accountable."
The pantry organizer, who requested anonymity, said he had not left his home since his clash with police. Funds for her community pantry have since been donated to other community pantries in the area.
"If they're brave enough then they should hold these officers accountable and if they like the PNP name, profiling and red marking shouldn't happen in the first place," he also said.
Ia Marañon, who reported similar profiling after organizing another community pantry in Quezon City, called the apology "unnecessary self-flagellation with no sense of responsibility" in a text message to Philstar.com.
As a reminder, Marañon's was one of the first pantries to report bullying by cops on social media after his group was approached by two cops in drab camouflage uniforms asking for information about the organizers and their affiliations.
"This PNP apology does not respond to the fact that the officers who passed through our pantry said they were being sanctioned by the station," she said.
"I am also not sure whether to report PNP issues to the PNP."
The organizer of the community pantry also questioned the PNP chief's account, saying Quezon City Police District officers who went to their pantry said they were sanctioned by the post. .
"This irresponsible PNP gesture should not be relegated to the tale of 'some bad cops' who went to the pantry on their own. I find it hard to believe it was not sanctioned by superiors." , she said. .
READ: Harassment of community pantries leads to stalled operations