"Monthsary" community pantry: from a woman to a helping community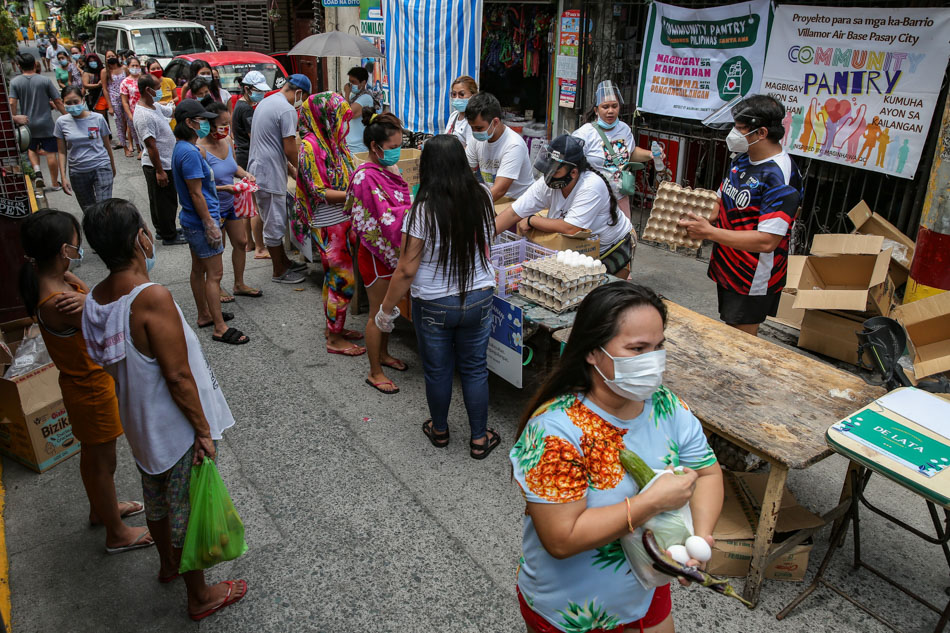 MULTIMEDIA
What started as a woman's desire to help her neighbors in need has grown into a full-fledged movement seeking to help the poor who have experienced more hardship as the COVID-19 pandemic is still not resolved after more than a year.
The initiative started with a humble wooden cart filled by Ana Patricia Non with vegetables and canned goods. Anyone who needed food to help them prepare their next meal could just drop by and pick up a few items.
Within a week, pantries mushroomed, from neighboring Quezon City barangays, to pantries in villages elsewhere in Metro Manila, to communities across the country.
Fueled by the mantra "Give what you can, take what you need", the movement derives its life not only from donations from the rich, but even from the most modest of donors such as street vendors and delivery men who despite getting certain items for their needs, giving whatever they can in return.
The result is a caring relationship, where each participant helps support the rest thus preventing the whole community from falling into despair. This is basically the Filipino concept of 'bayanihan', which is often described as a group of people carrying a traditional thatched-roof house to a new location.
But the movement has given rise to problems, including organizers who have been labeled as so-called communists because their mantra is rooted in the Marxist phrase: "From each according to his abilities, to each according to his needs."
Now one month old, the Maginhawa Community Pantry has become a relief hub that supports small community pantries according to their needs.
This is where it all started. The previous location of Maginhawa's pantry was a small bamboo cart propped up next to a tree on Maginhawa Street in the Teachers' Village in Quezon City. Jonathan Cellona, ​​ABS-CBN News.
When donations started pouring in, the pantry was moved to this barangay building so as not to hamper the neighborhood as hundreds of beneficiaries flocked to Maginhawa Street. Jonathan Cellona, ​​ABS-CBN News
The volunteers have multiplied, but also the work to be done to sort the donations to be distributed to other pantries in the community. Jonathan Cellona, ​​ABS-CBN News
Beneficiaries, such as the UP Drivers Association, now source their pantry from the donation center. Quezon City on May 14, 2021. Jonathan Cellona, ​​ABS-CBN News
Another place that has become a center for giving is the Claret School Church or Immaculate Heart of Mary Parish. Donors buy vegetables from farmers and bulk deliveries of vegetables arrive here from farmers who send them directly. Jonathan Cellona, ​​ABS-CBN News
Similar to the one on Maginhawa Street, volunteers now work in the church to manage bulk deliveries, from unloading to sorting to distribution. Quezon City on May 14, 2021. Jonathan Cellona, ​​ABS-CBN News
The community pantry has also grown from a few individuals setting up small tables and carts outside their homes to an organized group providing services and goods to those with none or less in life. Jonathan Cellona, ​​ABS-CBN News
In one of the community pantries that has sprouted up and has been modeled on Maginhawa's pantry, the one in San Andres Bukid in Manila continues to help those in need of food on their tables. George Calvelo, ABS-CBN News
Residents line up and get what's available in a pantry in San Andres Bukid, Manila. George Calvelo, ABS-CBN News
A man smiles and walks away after filling his pan with ready-to-cook items for a family meal. George Calvelo, ABS-CBN News
Much like what happened on Maginhawa Street, volunteers flock to Claret School to help redistribute the vegetables to other pantries in the community. George Calvelo, ABS-CBN News
Organized sourcing and distribution also helps maximize the cash donations that have flowed through an online campaign. The goods come from farmers who also need help selling their products. Farmers ensure that a variety of vegetables are available. George Calvelo, ABS-CBN News
From left to right, Mon Anievas from San Andres Bukid, April Mostoles from Taal-Lemery, Joan Pablo from Pildera Community Kitchen, Jochel Bodegas from Barrio Villamor and Jay-ar from San Andres-Sta. Mesa gather in Manila to mark the first "month" of the Community Pantry movement in the country. George Calvelo, ABS-CBN News
Community Pantry founder Ana Patricia Non is seen onscreen via a Zoom meeting with other community pantry organizers to mark the first 'month' of the Community Pantry movement in the country. George Calvelo, ABS-CBN News
Mon Anievas, a disabled person (PWD) and organizer of the San Andres Bukid Community Pantry, helps unload the vegetables delivered from the Claret School Church to their barangay in Manila. George Calvelo, ABS-CBN News
Volunteers repackage vegetables delivered by the Church of Claret School and Maginhawa Community Pantry for distribution to various pantries in Manila City on May 14, 2021. George Calvelo, ABS-CBN News