Man dies in actress' pantry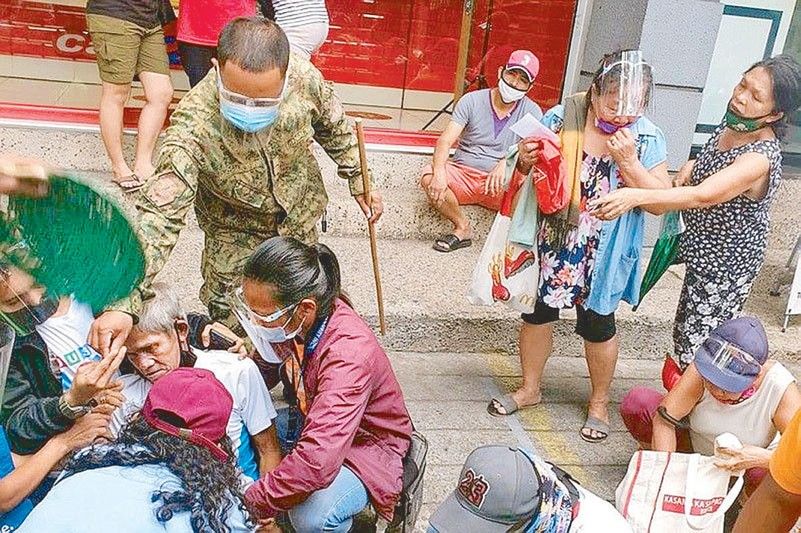 MANILA, Philippines — An elderly person died while queuing at a community food pantry hosted by actress Angel Locsin in Quezon City, which drew at least 5,000 people yesterday.
Rolando dela Cruz, 67, was pronounced dead upon arrival at the East Avenue Medical Center, said Lt. Col. Jeffrey Bilaro, commander of Quezon City Police District Station 14.
"The victim passed out while waiting for his turn at the community food pantry," Bilaro said in a Viber message.
Mayor Joy Belmonte said the city will cover Dela Cruz's burial costs and provide financial assistance to his family.
She also reminded community pantry organizers to practice foresight in pursuing kind and compassionate activities, asking them to coordinate with local authorities who can help with crowd control.
"While Quezon City will continue to give its full support to community food pantry initiatives, this unfortunate incident should serve as an important reminder to organizers to remember my call to coordinate all efforts with the barangay and, if necessary , with local government unity," she said.
"The barangay and local government are there to help with crowd control and health protocols, to ensure untoward incidents are minimized. Advanced coordination will allow all stakeholders to be proactive rather than reactive. Unfortunately, in this case, we were not informed of any plans, which surely would have made a difference in the outcome of today's events," she added.
Año orders a probe
Interior and Local Government Secretary Eduardo Año said police must investigate Dela Cruz's death.
"We cannot yet determine who could be held responsible until the end of the investigation," he said.
Año asked community food pantry organizers to coordinate with local government units (LGUs) and police for assistance after Dela Cruz's death.
"It is up to the organizer to impose health standards. This is the main reason why they need to coordinate with the LGUs, so that the latter can provide assistance," he told reporters.
Apologies
Locsin apologized to those affected, stressing that it was never her intention as she only wanted to help people on her birthday.
"We started organized. Although there was a long queue, people were practicing social distancing," she added in Filipino.
At one point, however, she said some people who hadn't been given heels skipped the line, leading to the crowding and lack of social distancing that was captured in the photos.
Locsin said he also coordinated the activity with the city and barangay, noting law enforcement, police and the military were there to help.
"For those who have been affected, I am sorry. This is not our intention and whatever preparations we made to avoid this, we could not control (the people)," she added.
The actress also apologized to those who were unable to receive aid, saying they would instead send the remaining donations to people and community offices in the area. –Romina Cabrera