STACY – A small church in Stacy is making a big difference in providing food for struggling families in the Down East.
As of August 2017, Lighthouse Community Church has used its kitchen and sanctuary as a pantry to distribute food on the second and fourth Saturdays of each month.
Church member Joyce Gaskill said she started the pantry after seeing more and more families in Down East in financial difficulty.
"This is just a depressed area and there aren't many jobs left for people in the east," she said as she unloaded boxes of food that she was carrying. the NC Food Bank in New Bern at the Sanctuary on December 2. "We wanted to help meet a need.
The pantry became an essential source of food for families in the area after Hurricane Florence, which devastated Carteret County with flooding and high winds in September 2018. Then the coronavirus pandemic struck in March 2020, causing even more financial problems.
Ms Gaskill said the pantry normally provides boxes of food to between 80 and 100 families every two weeks. The boxes contain a wide variety of non-perishable foods, as well as meats and dairy products when available. It is supported by several county churches, civic groups, scouts, schools and individuals.
Thanks to recent work teams provided by Ann Street United Methodist Church in Beaufort and the First United Methodist Church in Morehead City, the Pantry now has a new storage facility and a ramp behind the church. Previously, non-perishable foods were stored in every cupboard, nook and cranny of the main church building. Several freezers fill the kitchen, including one at the back of the sanctuary.
"We are very grateful for what the groups have done," she said. "We plan to move a lot of these boxes from our sanctuary to the new storage building. "
The pantry received an additional boost with equipment and supplies in early 2021, when the former Active Christians Together Serving Food Pantry, operated at Woodville Baptist Church in Bettie, closed.
"They gave us a lot of their freezers and equipment and that was a big help," Ms. Gaskill said.
She added that the lighthouse pantry would not be possible without the help of volunteers who come every week not only to help unload food deliveries, but also to serve during drive-thru distributions.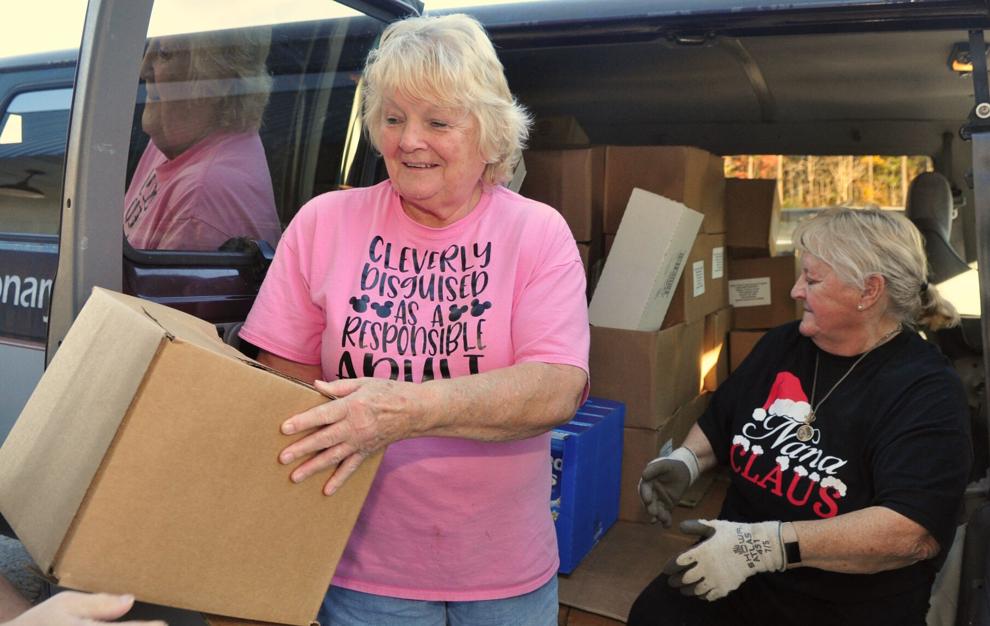 Kathy Goodwin from Atlantic has been volunteering in the pantry for about two years.
"I love what I do," she says. "I just saw a need and thought I could help. "
Diane Taylor of Atlantic also participated in the distributions for approximately two years.
"I like people," she says. "There is a need and it makes me feel good to help. "
Those from communities in the southeast interested in receiving food can come to the distributions, which normally take place from 8 a.m. to 10 a.m. on the second and fourth Saturdays of each month. Due to the holidays, the next distribution in December will be Saturday, December 18, instead of the fourth Saturday. The regular schedule will resume in January.
Those who come to collect food will be asked to fill out a form, but no personal financial information will be requested.
Those interested in volunteering with the pantry, donating food, or wanting more information can call Ms. Gaskill at 252-241-8687. Monetary donations to help purchase food can be mailed to Lighthouse Community Church, 2015 Highway 70 East, Stacy, NC 28481. Place a note on checks indicating this is the pantry.
Contact Cheryl Burke at 252-726-7081, ext. 255; send an email to [email protected]; or follow us on Twitter @cherylccnt.