Kennett Area Community Service Sponsors New Pantry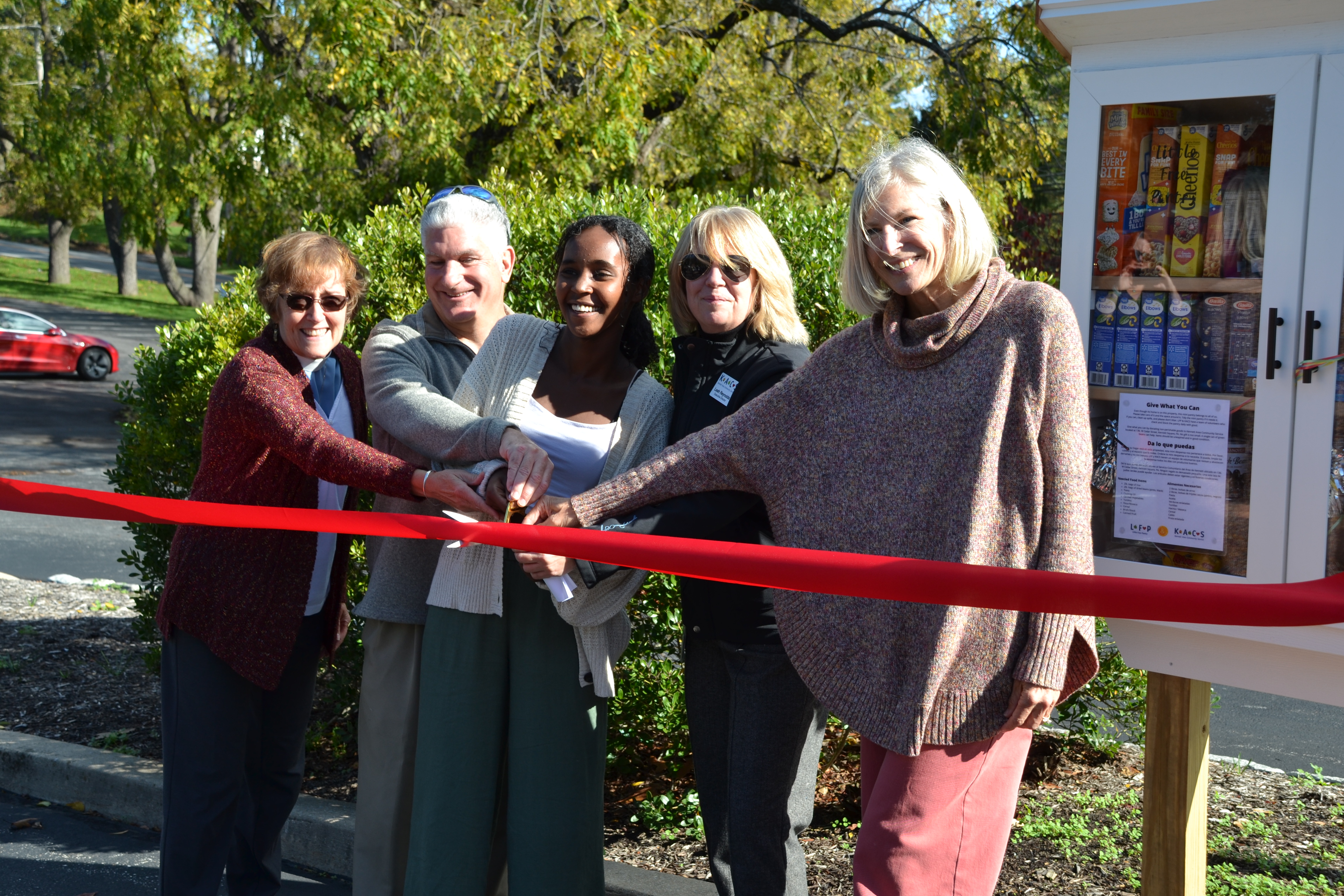 [ad_1]
Photo of Richard L. Gaw Reverend Nancy T. Hauser of Advent Church, far left, joined Kennett Area Community Services Executive Director Leah Reynolds and the Daly family during the the official opening of a Little Free Pantry cabinet on October 27. The cupboard, which will provide free food to needy families in the community, is located in the church parking lot at 401 N. Union Street in Kennett Square.
By Richard L. Gaw
Editor-in-chief
In a city whose collective consciousness has been built on the art of selflessness and good deeds, Kennett Square recently took a giant leap forward to solidify its reputation – steps that were taken by a high school student and her parents. .
In front of elected officials, representatives of the local nonprofit sector and a few dozen guests gathered at the Advent Episcopal Church on North Union Street, Kennett Area Community Service (KACS) cut the ribbon for the first Little Free Pantry to be installed in Place Kennett.
Designed and built by Unionville High School junior Sara Daly and her parents Mike and Tracy, the mini pantry is located in the church parking lot and is stocked with non-perishable items like cereals, canned goods, rice and beans. The project was carried out in partnership with KACS to provide needy families in the Kennett Square community with an additional food resource.
KACS will coordinate food donations and volunteers to monitor supply levels in the closet.
"We are thrilled to help bring this important initiative to the community," said Leah Reynolds, CEO of KACS. "The Little Free Pantry movement aligns perfectly with KACS 'mission to meet people where their needs are, and we look forward to working with Tracy and Sara to make them a valuable resource for our neighbors in need.
"A big thank you to Advent Church for getting involved to be an example in the community of how we help others."
"We are honored to be a part of this project," said Reverend Nancy T. Hauser of the Advent Church. "We see providing space for this pantry as a demonstration of our support for the great work KACS is doing in this community. "
The Little Free Pantry movement began in May 2016 in Fayetteville, Ark., When Jessica McClard planted the Little Free Pantry Pilot, a wooden box on a post containing food, personal care, and paper items accessible to everyone. at any time without asking questions. . A month later, Women's Ministries at CrystalRock Cathedral planted their Blessing Box in Ardmore, Oklahoma, and by 2016 the grassroots movement had gone global.
Tracy Daly first read the Little Free Pantry movement in Eat well magazine.
"We've been in Kennett Square for 30 years and wanted to give Kennett Square in a meaningful way to the city, and it was on our to-do list," said Tracy, who, along with her husband, adopted their daughter of Ethiopia when Sara was four years old. "It's a small amount to give, but like Leah said, it's available all the time when people really need it, no questions asked, no judgment."
The Daly family is in the early stages of building a second free small pantry that will eventually be installed at the Kennett Area YMCA.
For those who wish to contribute to the Advent Church's free small pantry, please bring the following items to KACS: two-pound bags of rice and dried beans, pasta, cooking oil, canned vegetables and fruits , cereals, flour and masala and tortillas. To learn more about the Little Free Pantry movement, visit
www.littlefreepantry.org.
To make a contribution to community service in the Kennett area, visit their website at www.kacsonline.net.
To contact Editor-in-Chief Richard L. Gaw, send an email [email protected]
[ad_2]