Sam Prellwitz has only been senior pastor of Ripon Community Church (RCC) since mid-January, but the Ripon native's history with the church dates back to his time at college.
In fact, getting involved with RCC helped Prellwitz fall in love with the Ripon community all over again, which fueled his decision to return home after attending college in Indiana.
Prellwitz gave his first sermon as senior pastor to Mike Holba, who founded the CCR, on Sunday, January 16.
He is grateful and honored to have the opportunity to build on the legacy of the RCC.
"Mike has big shoes to fill, but he never made me feel like I should fill those shoes," Prellwitz said earlier this month. "He feels I can lead like I think God wants me to lead. I will try to do that.
the Commonwealth caught up with Prellwitz this week to learn more about his first two weeks as senior pastor.
Here is the conversation:
Q. How were the first few weeks as Senior Pastor of CCR?
A. They left well. We have a church full of wonderful people who have been incredibly encouraging.
Our goal as a church for 2022 is to "represent Jesus well". Individually and as a church, we will do our best to be good representatives of Jesus. The response to this focus has been inspiring. I have heard, in just a few weeks, dozens of stories of people choosing their actions more thoughtfully and, because of it, experiencing truly positive changes in their lives. That was definitely one of the highlights.
Q. What did you enjoy about your role as a leader?
A. You never really know how you're going to react until you're seated in the leadership seat. I know the president isn't even hot yet – so the jury is still out – but it's encouraging to already see several ways Pastor Mike Holba has helped prepare me for this role over the last 12 years. I also enjoyed hearing from so many people how excited they are about the future of the RCC.
Q. Could you briefly explain how you became involved in the church?
A. When I attended Wabash College in Indiana, I was involved in student ministry there. Between this and hosting a Bible study in my dorm, I witnessed the difference faith in Jesus can make in a person's life. That's when I knew it was something I was meant to do. When I was back home over winter break, it was my girlfriend (now wife) Meg who suggested I email Pastor Mike to request an internship the following summer at RCC . So I emailed him, we talked and he agreed. It was the summer of 2008. I've been involved here ever since.
Q. How did Mike Holba inspire and teach you?
A. Mike taught me a lot about leading a church – the ins and outs of leading a team well and the practicalities of managing day-to-day operations.
He also showed me how to take care of people. Over the years there have been many instances of people calling Mike in the midst of really difficult circumstances. I saw Mike show up for these people in a big way by helping them experience the comfort of God.
He knows that a relationship with Jesus transforms people's lives and all he did here in Ripon was to help more people experience that.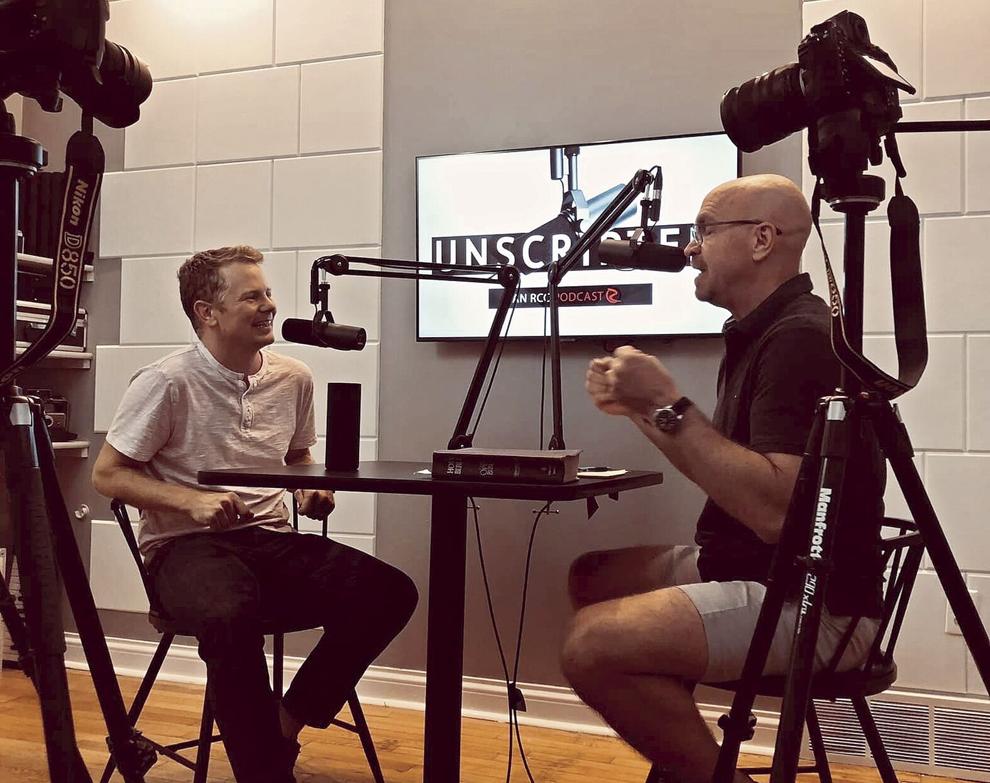 Above all, over the past 12 years, Mike has inspired me to be a better man, husband and father. In some of our last conversations before things were made official, his strongest advice was to take care of Meg and our boys – make it my priority. It was nothing new. That's how he dragged me along. We still chat regularly and I think I won't stop hearing this message anytime soon.
Q. You mentioned before that coming back from college and being involved with RCC helped you fall in love with Ripon again. What do you like about the Ripon community?
A. When I talk to friends who live in big cities, I like to brag. I'm talking about the amazing downtown with all of its shopping and dining options. I'm talking about the South Woods and Ceresco Prairie trails. I tell them about Vines & Rushes Winery and the fact that Green Lake is a 10 minute drive away. I mention how college town it is and how it gives Ripon such a unique dynamic that I love.
More than any of these things, these are the people I love the most in this community. When Meg and I returned to Ripon 12 years ago, many of these attractions we grew to love were just seeds, many of which were struggling due to the economy at the time. There's something about living in a small town like Ripon that forces you to get to know more people because you regularly meet them in the Mugs or Webster queue, or during the school bus. There is something special about it.
Q. How rewarding has it been to grow as a pastor in CCR?
A. You learn a lot in seminary. What they don't and can't teach you is how transformative being a pastor is. You get to know people through their struggles and triumphs. Pastoring at CCR has been rewarding because people have allowed me to be a part of their lives through the ups and downs. It's not always easy, but I grew up watching God comfort people in terrible times just as much as I grew up seeing someone achieve great things and do it in a way that honors Jesus.
Q. What difficulties did you encounter and how did you overcome them?
A. Like everyone else, especially in the past two years, there have been too many struggles to count. The summary of a majority of them is that it's just not possible to keep everyone happy all the time. So you can't have that as a goal. Instead, it has been motivating to work toward making RCC a church where we take God seriously, but don't take ourselves too seriously.
We're not going to agree on everything, but we know that Jesus has something we're all looking for, and doing our best to represent him well as a church community is something we can all support.
Q. What makes RCC different from other churches in reaching those who have lost their faith or strayed from their faith?
A. I spent an hour recently with a few guys who recently started going to church for the first time in years. Their own words this morning were that they like to come to CCR on Sunday mornings because the message is something they can understand and apply to their lives.
Plus, the fun and meaningful worship music seems to surprise people in a good way, giving people songs they want to stick in their heads all week.
But the main reason is definitely the people. RCC is a church filled with such a variety of people who have a few really important things in common: they are welcoming, encouraging and caring.