Excellence in academics, leadership and community service celebrated at BMS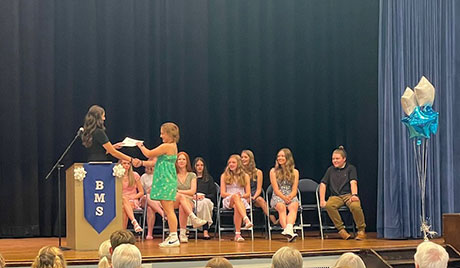 More than 40 seventh and eighth graders and their family members not only celebrated the end of another school year recently, but also their induction into the National Junior Honor Society.
A prestigious club at Batavia Middle School, this honor society strives for "academic excellence and prioritizes leadership and community service," said honor society adviser Meaghan Tederous.
This year, the group's community service efforts included volunteering at Family Home Evening, Warm the Night and the Polar Plunge at John Kennedy Middle School. Members organized – and two members even dived, for – the Polar Plunge fundraiser. They raised more than $1,500 for Special Olympics New York, Tederous said.
To be eligible for the NJHS, a student must have a certain GPA, and the criteria differ based on each grade. A student must also possess community, character and leadership qualities, and earn a teacher recommendation, she said.
"We are so proud of our inductees and look forward to another year of celebrating academic achievement and giving back to the community," Tederous said.
Members of the National Junior Honor Society in seventh grade are:
Phoebe Beal
Brock Bigby
Ryan Bigby
Mallory Boyce
Genevieve Clark-Scott
Parker Cohen
Augustin Crawford
Andrew Davis
Teegan Frens
Thomas Gaylord
Ty Gioia
Lilian Gray
Jenna Higgins
Nathaniel Kinsey
Casey Mazur
Emma McJury
Emma Moore
Brielle Ricks
Aubrey Sputore
Trey Tryon
Gretchen Weicher
Landyn Wood
Kate Woodward
And in eighth grade are:
Aaden Caletto
Alora Becker
Ava darling
Andrew Hunt
Bella Moore
Elaina Stringham
Elizabeth Grazioplene
Ella Smith
Julia Plath
Kiana Beaty
Lakoda Mruczek
Lila Fortes
Madeline Smith
marley santos
miah jones
Misael Flores
Noah Richmond
Tabitha Jett
Nora Wood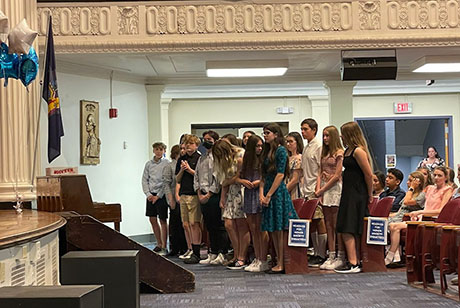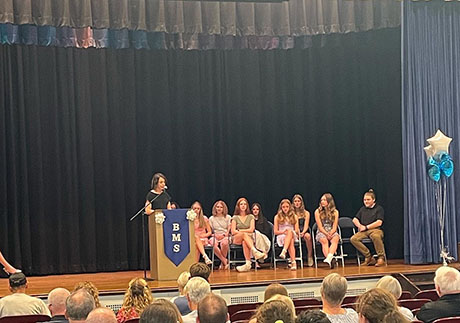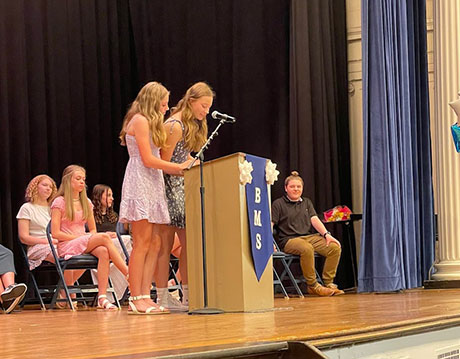 Batavia Middle School students participate in the annual National Junior Honor Society ceremony as club inductees, which emphasizes academic performance, leadership skills, and community service. Photos submitted by schools in the city of Batavia.