Diamond Point Community Church Hosts Taste of Diamond Point Fundraiser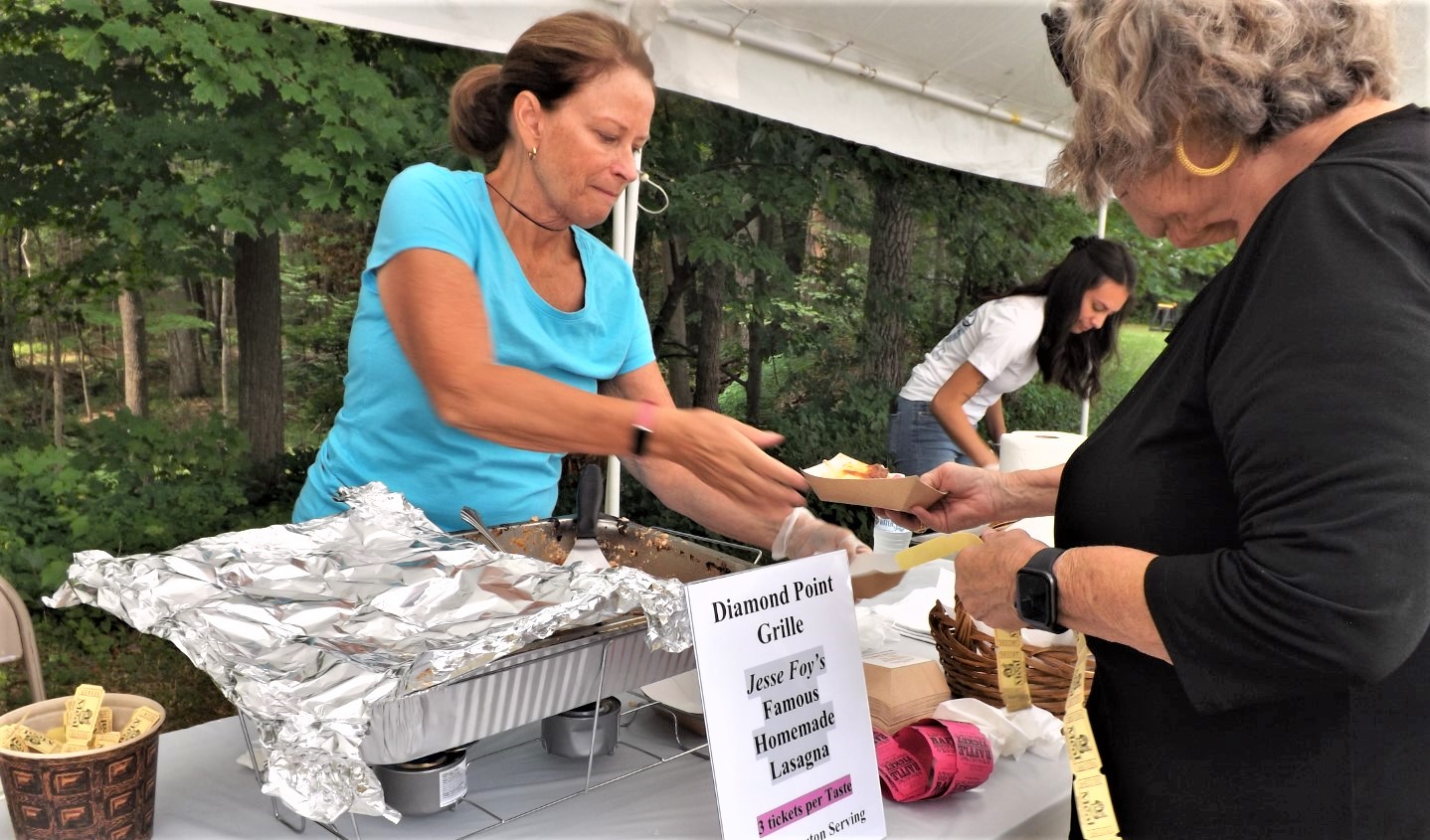 Canoe Island Lodge Chicken Nuggets, Lizzie Keays Stuffed Mushrooms and Lone Bull Pancake House Sausage Sauce on Biscuits are just a few of the dishes guests can enjoy at 14e Taste of Diamond Point, a fundraiser for the Diamond Point Community Churchheld on Saturday July 16.
Church administrator Chris McKenna says they used to hold an annual garage sale of donated goods, but often ended up with little money and lots of unsold goods that they then had to throw away. The trustees decided there had to be a better way to raise the funds they needed for building maintenance and repairs. The idea they had was a success. The church parking lot was full and the lawn was packed with guests at the Taste of Diamond Point 2022.
Although July is the busiest time of year for local businesses, restaurants on Bolton Road (and one in Warrensburg) donated casseroles of their house specialties, which guests could sample in exchange for tickets at 1 $. The offerings included Buffalo Chicken mac and cheese from the Inn in Erlowest, Stewart's Make Your Own Sundaes, Up North Market Deli pulled chicken and pork, Helova Deli fruit pizza, cookies from Subway, sub sandwiches Stable Gate Deli and Cajun tomato chicken penne. cream sauce from the Boathouse restaurant.
In addition to the wide variety of dishes, guests were able to enjoy live entertainment provided by keyboardist Ray Alexander. Volunteers roamed the lawn selling strips of raffle tickets and numbers were called every 10 minutes throughout the event. The raffle prizes were gift cards, gift baskets and other merchandise donated to Taste of Diamond Point by local businesses. A silent auction allowed participants to bid on large donated items.
Diamond Point Community Church was built in 1876 by George H. Cramer, a Troy businessman and prominent summer resident of Bolton Road. Cramer donated the church to a group of trustees, and it was dedicated in August 1879 as the Evangelical Union Church. For much of its history the church was affiliated with the Episcopal Diocese of Albany but is now non-denominational.
The church welcomes visitors, summer residents and local families to its Sunday services from Father's Day to Labor Day. Some families, says administrator Michael McKenna, have been attending services for 20 years for the one Sunday each summer that is part of their annual vacation in Lake George. Services are led by a rotation of visiting pastors from various denominations, each staying a week at the parsonage which was built in 1894, a building project funded by Cramer's sister, Mrs. John K. Porter.
The church is also available for weddings, baptisms and memorial services, although Chris McKenna says no weddings have been booked for this summer as it seems couples are choosing non-religious venues lately , such as barns, for their wedding ceremonies.
Each year, after Taste of Diamond Point, the organizers count the number of tickets collected by each restaurant. "Last year, Up North won the event, but this year they were beaten by 20 tickets by the Inn at Erlowest, which served a chicken Buffalo mac and cheese," says Chris McKenna. "Corporate donations helped us raise just over $2,600, but thanks to donations and a challenge match from an anonymous donor, we raised many more donations. A special thank you to the companies for all their support and donations and to the community for its presence. Without the leadership of Kim Kadel and Donna Cunningham, this event would not have been such a success.
Related