Community food pantry catering to Wigan's food needs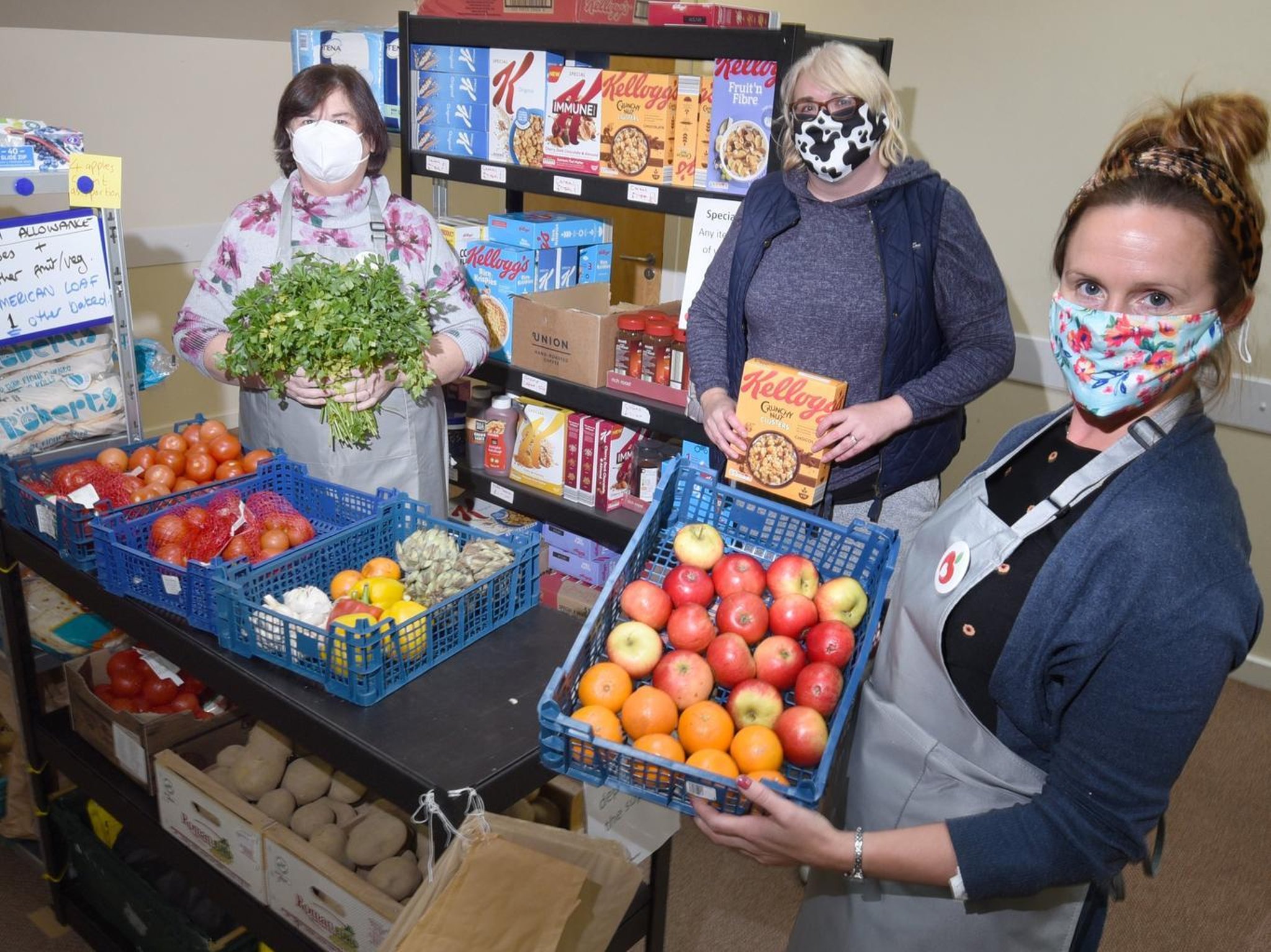 Diana Lunn, Vicky Galligan and Vicky Little at the Shevington Community Food Pantry
Shevington Community Pantry started during the spring lockdown and now has 100 members.
Based in the parish center of Sainte-Anne, the group of volunteers began their work by delivering emergency food parcels to those who are in financial difficulty or who cannot reach the shops.
However, when restrictions began to ease in July, the group received considerable financial support from neighborhood councilors and discount store B&M.
Vicky Little with some of the low cost food members can buy
They decided to continue as a membership program providing low-cost products to those who signed up and joined forces with Fur Clemt, which works to prevent edible food from being thrown away and ending up at the landfill.
The move means that Shevington Community Pantry is now popular not only with those who find themselves strapped for money and need help getting food on the table, but also with those who want to support the organization to d other reasons, such as caring about the future of the planet and the contribution of food waste to environmental problems.
Shevington Community Pantry Treasurer Vicky Galligan said: "We basically started out as a food bank, making deliveries to the community during lockdown.
"We have provided fresh food as well as canned food, breakfast cereal, UHT milk, everything we need to put together emergency food parcels.
"We were sending about 20 parcels a week to people in the community who literally couldn't go out to stores because of the lockdown or who were struggling with their finances.
"We had received £1,500 funding from Brighter Borough from our councilors and £1,500 from B&M to spend in their stores on things which we could then store in the food bank and give away for free.
"It wasn't sustainable in the long term, but people still needed affordable food, so we spoke to Fur Clemt and they were keen for us to become another outlet for them.
"We thought it was a very good idea. They now provide us with food which we collect twice a week and stock our small pantry so people can come down.
"There are no membership requirements. You don't have to be on benefits or struggling with money.
"It can be environmental awareness. We attract people to us from the angle of wanting to do their part for the planet and prevent food waste.
Members of Shevington Community Pantry pay £5 for the year to be part of the scheme and then hand over an additional £2 when they visit.
This entitles them to 20 items from the pantry and there are also special low cost items available if people want to buy them.
The pantry is also considering whether or not it will be able to implement specials for occasions such as Christmas.
A team of 13 volunteers now leads the operation, which had to put in place a series of measures due to Covid-19.
These include slightly extending opening hours on days the pantry is open, limiting the number of people who can enter at one time, and ensuring social distancing throughout the building.
Vicky said the people coming to the pantry are 'a total mix' but said there are huge social issues in Wigan meaning people need low cost food as they experience considerable difficulty in making ends meet.
She said: 'We have families from as far away as Coppull and there are a lot of people struggling with benefits such as Pension Credit or Jobseeker's Allowance.
"Some people are single parents, some are retired. They find that the cost of living has gone up while benefits and wages haven't gone up.
"People were struggling before the coronavirus hit, but it made it worse.
"The Community Pantry gives people the opportunity to buy really cheap food rather than depending on handouts.
"It's a matter of pride. A lot of people won't go to a food bank or accept that help because they don't like to admit they're struggling, but they'll come to us and pay as a member.
"It works well for people who in other circumstances might not have asked for help."
Shevington Community Pantry is open at the parish center on Church Lane on Mondays and Wednesdays between 3.30pm and 5pm.
New members are always welcome and people interested in joining the program can either come in and request a form or download one from the Shevington Parish Council website.
The Community Pantry is also on Facebook and Twitter.